The success the Scandinavian countries have had balancing a high standard of living with relative equality has attracted the attention of scholars and policymakers the world over. Read on to learn more about what makes the Norwegian model of welfare distinctive—and the role our university plays in sustaining and improving the welfare state.
Norway ranks near the top of a lot of lists: human development, worker productivity, gender equality, quality of life, peace, happiness—to name just a few. A century ago, this country in the north of Europe was a relatively poor backwater with a rural population and one of Europe's highest rates of emigration. Today, Norway is a forward-thinking, prosperous, increasingly urbanised country of 5.3 million people. 
In the late 1960s, oil and gas reserves were discovered off the western coast of Norway. In a decision that has had far-reaching consequences for Norwegian society, the government established the Government Pension Fund to set aside profits from the sale of oil and gas for future generations. In this way, Norway succeeded in distributing the benefits from its natural resources among its citizens.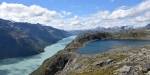 The Norwegian model of welfare
Unlike many other wealthy countries—especially countries whose wealth is closely tied to natural resource extraction—gaps between rich and poor are small in Norway. The main driver of this relative equality is the Norwegian model of welfare, or welfare state. 
A welfare state is defined as a form of government in which the state promotes the well-being of its citizens through a system of rights, benefits and obligations. In Norway, the welfare state is financed primarily through relatively high taxes, as well as interest from the Government Pension Fund. The Norwegian model of welfare seeks to ensure equality of opportunity and relative equality of outcome in all areas of life—health, education, and economic and social well-being.
There are some disagreements in Norway about how to define equality and whether the welfare state should be expanded further. But there is broad agreement that the Norwegian model of welfare has had a positive impact on society and is worth preserving.