NordSTAR is one of the five research environments at OsloMet that recently got designated as an Excellent Academic Environment. The new research centre is led by professor Pedro Lind and professor Anis Yazidi from the OsloMet/SimulaMet AI Lab. 
Artificial Intelligence (AI) is a field in computer science that attempts to reproduce traits of human intelligence in machines. Nowadays it has a significant impact in almost all human activities. However, these achievements come with a price. 
First, state-of-the-art algorithms in AI demand massive computing power and energy: to handle the ever-increasing Big Data repositories, AI systems must scale in proportion to all the available data. In other words, future AI must be sustainable.
Second, the long-term use of AI systems is also threatened by human factors, above all of them, lack of trust: even achieving super-human performance, AI models are often neglected by humans, due to their lack of transparency on how they generate their predictions. In other words, future AI must be trustworthy. 
'Artificial intelligence can document impressive results within many tasks and can achieve better results than humans. However, these methods still have challenges with becoming sustainable and trustworthy,' says Hugo Hammer who is responsible for the centers research area for Understandable and Explainable Models (UEM). 
Incorporating key aspects of trustworthiness and sustainability
The main goal of NordSTAR centre is to develop AI tools, which embed all key aspects related with trustworthiness and sustainability.
One of the leaders of NordSTAR, Anis Yazidi, explains why OsloMet is the place for such a centre. 
'At OsloMet we have a very vibrant team working in different areas of AI and our AI Lab is now one of the leading labs in Norway. Our mission is to bridge between fundamental AI research and societal needs,' says Yazidi.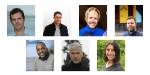 Research areas
Understandable and explainable models

This research area is going to quantify the uncertainty in AI decisions and develop tools for better understanding of the different components of AI models and for explaining why specific AI decisions are obtained. It is led by Hugo Hammer from the OsloMet AI Lab. 

Biologically-inspired computational systems

They will incorporate fundamental aspects of natural intelligence in AI models, with the motivation of approaching the efficiency of biological neural systems. This research area is led by Stefano Nichele from the OsloMet AI Lab. 
 

The aim of this area is to bridge the gap between the growing number of theoretical suggestions on design and application of Quantum AI and the present lack of quantitative practical results. This research area is led by Sergiy Denysov from the OsloMet AI Lab.
 

Security, safety and reliability

This research area will address data security, humans physical safety, and reliability of the communication at the level of AI methods design. This research area is led by Ahmed Elmokashfi from SimulaMet. 

They will incorporate the fundamental legal and moral norms underlying social behavior and consider them in the design of Sustainable and Trustworthy AI tools. This research area was initiated by Marija Slavkovik from UiB, and will be led by Elena Parmiggiani from NTNU. 
About the Excellent Research Environments
In total, five centers at OsloMet has been granted the status of Excellent Research Environments. This is part of a measure designed to meet the university's articulated goals in its strategy for 2024: to develop three to five research environments of extraordinarily high quality. 
In June 2020, the R&D committee announced a competition between academic environments at OsloMet to gain status as an Excellent Research Environment. The committee received 20 applications in total. The five centers that reached the status of excellence will now be working towards becoming Centers of Excellence (SFF). 
Each of the five research environments will receive NOK 1 million per year over four years (2021 – 2024), as well as funding for a Ph.D./postdoc position. In addition, they will receive extra administrative support for self-development and for working on applications for external financing.