NordSTAR recently recorded a podcast episode for the collaborative project we have with the University of Hradec Králové, Czech Republic. This is an ongoing project that focuses on the transfer of technology, intellectual property protection, and support of spin-off companies. This bilateral project is led by Anis Yazidi with the participation of Hårek Haugerud and Pedro Lind
In the podcast, conducted by Pedro Lind, we hear from Ranveig Strøm who is the Director of Innovation in Simula Research Laboratory, and Associate Professor George Anthony Giannoumis from the Department of Computer Science at OsloMet. 
Ranveig and Anthony are both experts on innovation, and share their knowledge and experience with technology transfer and innovation. 
The podcast episode is available through this link (soundcloud.com). 
The collaborative project with University of Hradec Králové benefits from a grant from Iceland, Liechtenstein and Norway through the EEA Grants.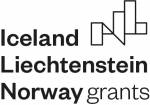 Ahmed Elmokashfi, SimulaMet. Leader of research area: Security, safety and reliability in NordSTAR.