The COVID-19 pandemic caught societies around the world off-guard as it rapidly spread across the globe during the first few months of 2020. Like other universities, OsloMet was faced with the challenge of carrying on operating while protecting the safety of its students and staff. The university's robust response and frequent updates about the ongoing situation proved especially important to international PhD students and faculty members, many of whom are living far from their countries of origin.
Marco Tagliabue, an Associate Professor in the Department of Behavioural Science from Italy, and Sidney Pontes-Filho, a Computer Science PhD fellow from Brazil, recall the steps taken by the university to ensure both safety and continuity in their teaching, research, and daily lives.
First steps
Norwegian authorities announced the strongest and most sweeping peacetime measures on 12 March to limit the spread of the virus in the country. Schools, universities, and daycare centres were closed, as were many businesses, restaurants, fitness centres, and concert venues. The directives also included strict social distancing and work from home orders.
Although the majority of the government's announcements were made only in Norwegian to start, Tagliabue relied on the clear communication from his workplace to guide him through those very first days:
"As soon as the guidelines and regulations were in place from the Norwegian Institute of Public Health, OsloMet quickly established a response team that created both English and Norwegian webpages which were updated several times per day to tell us in detail what we were supposed to do. They reassured us that we could continue working from home, which provided a sense of continuity and that they were looking out for us."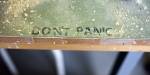 Pontes-Filho believes that the initial measures taken by the university were helpful in averting what could have been highly stressful circumstances.
"Our colleagues at OsloMet were quick to give us information on how to proceed so we could work remotely, and they warned us about the possible delays in our PhD projects. This was important for us to help manage this situation," he reflects.