'The National Transport Plan seeks to modernise infrastructure and develop safer, more efficient and greener transport solutions. The construction industry and the authorities are therefore stressing the need for urban planning skills,' says Professor John Östh at the Department of Civil Engineering and Energy Technology. 
Professor Claudia Yamu adds that 'Employing new technology is also essential to achieving the green transition.'
OsloMet is responding to these needs by establishing a master's degree programme in smart mobility and urban analysis.
Smart mobility
Expertise in smart mobility and urban analysis is in demand locally, nationally and internationally.
Smart mobility is about developing the transport networks and strategies for transport planning. Students on the new master's programme will learn about history, trends, issues and possibilities in the field of land use and transport.
They will also look at transport demand, travel behaviour, land use, transport land use policy, quality of streets and urban spaces including their design, and how these aspects play a role for sustainable communities and cities of the future.
The students will acquire skills in the application of new technologies in the field and knowledge of innovation in sustainable urban mobility.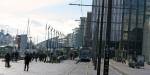 Urban analysis
Urban analysis is about the investigation and understanding of spatial, social and economic processes, trends and challenges in cities. Related to urban development it is about how land use-transport planning affects the actual use of an urban area.  
The programme aims to give students robust theoretical knowledge and applied skills in urban system analysis and design including involved human factors for sustainable cities.
Climate change and increased attention on the use of resources and environmental impact make it more relevant to focus on how urban areas should be planned and designed. The students will gain detailed knowledge in urban analysis, design and policies for liveable cities.
The students can choose a specialisation in the third semester in either urban mobility or the urban analytical approach for analysing spatial layouts and human activity patterns ('space syntax').
Combined with the master's thesis in the fourth semester, this allows them to practise applying their knowledge and skills on relevant issues.
Digital tools in focus
Quantitative and qualitative data analysis, the use of advanced software and simulation tools are at the core of the programme, which also aims to qualify students to participate in research.
Cooperation with engineering disciplines
The Department of Civil Engineering and Energy Technology now offers education at bachelor's and master's degree level in structural engineering, building technology, infrastructure, energy in buildings and environmental engineering. The latter will be included as a specialisation at master's degree level from 2023. 
'The focus on smart mobility and urban analysis complements our study programmes by emphasising urban planning and development with smart mobility, and transport land use planning', says Head of Department Hallgrim Hjelmbrekke. 
'We expect the master's programme to contribute to greater understanding among candidates from all programmes of the importance of taking an interdisciplinary perspective into engineering tasks to foster sustainable urban development.'
The team behind the master's programme in smart mobility and urban analysis is John Östh, Claudia Yamu, Daniel Piatkowski, Chaoru Lu, Albert Lau and Marit Sandvik. 
Start-up in 2022
The master's degree programme targets bachelor's degree candidates on civil engineering programmes, but can also be suitable for bachelor's candidates with good knowledge of urban and land-use planning or transport technology, IT, geography, architecture or landscape architecture.
The first students will be admitted in autumn 2022. 
The image at the top of the article shows two students pointing to digital maps of an urban area on a screen in the laboratory. Photo: Olav-Johan Øye, OsloMet.
More about the master's programme