The work to assure and develop the quality of our programmes must cover all factors that have a substantial bearing on the quality of education, learning outcomes and society's short and long-term competence needs. This is specified under four overall quality areas: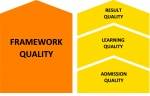 The four quality areas:
Framework quality
Premises, equptment and aids
Number of staff and staff competence
Result quality
Drop-out and completion
Labour market relevance
Learning quality
Learning environment
Study programme coherence and context
Supervision, forms off teaching and assessment
Internationalisation
R&D in the education programmes
Commitment and hours invested
Learning outcomes
Admission quality
Qualitifications on admission
Number of applicants
Marketing and profiling
The four quality areas comprise underlying topics that, taken together, give an overall picture of the quality of education at OsloMet. The quality areas and the underlying topics cover all aspects of the students' courses of study, from the information they are given as potential students, through their life as students, the candidates' learning outcomes and the relevance of the education programmes to working life. Framework quality covers the framework surrounding the study programmes, such as premises, equipment and aids, the number of teaching staff and their competence. 
In order to allow for scrutiny and in-depth analyses in connection with the annual quality reporting, the main focus will be on different topics year on year. The topics to be focussed on in any one year will be decided by the Department of Academic Affairs in consultation with the pro-rector and is indicated in the template for reporting. In order to keep track of other factors, however, figures based on a fixed and broadly-based indicator set must also be included in the annual reporting.  
See staffpages/toolbox (ansatt.oslomet.no) for more information about topics for the first and second cycle and the third cycle, and an overview of indicators that can help to throw light on the state of affairs relating to each topic.