Board members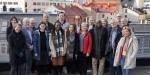 The faculty board is chaired by the chair of the board (the dean), and in his absence by the dean's formal deputy. The dean is responsible for submitting cases to the board.
External board members 
Arne Backer Grønningsæter, Senior Researcher, FAFO. 
Hanne Graver Møvig, Library Director, University of Oslo Library
Lamisi Gurah Blackman, Senior Strategic Partnership Manager, DNB.
Vibeke Opheim, Chief Executive Officer, NIFU. 
The Rector has appointed the external board members on the basis of proposals from the Dean.
Representatives elected by the students
Anita Stellander 
Stian Grastveit
Sara Reggianini
Deputies: Siri Isdal og Berit Andrea Grav
Representatives of employees in permanent teaching and research positions
Representative of employees in technical and administrative positions
Representative of employees in temporary teaching and research positions
Deputy members
Robert Helland-Olsen, Chief Executive Officer, HKKR (consultancy) and Assistant Professor ved University of Agder
Joh Ekollo, Senior Adviser, IMDI.
Eskil Wadensjö, Professor, Stockholm University

Representatives elected by the students

Heidi Storfossen, Department of Social Work, Child Welfare and Social Policy
Marie Knutsen Bruntveit, Department of Journalism and Media Studies

Representatives of employees in permanent teaching and research positions

Representative of employees in technical and administrative positions

Representative of employees in temporary teaching and research positions