Rob had something of an unusual background for the master's programme—the UK native previously worked in the medical industry designing prosthetic limbs.
As new technologies began to transform the field, Starling decided he needed to recalibrate his skillset for the future.
The master's degree programme in Product Design – Design in Complexity at OsloMet caught his attention.
The top-notch facilities for 3D scanning, printing and CNC milling were a major reason he decided that OsloMet was where he wanted to take the next step in his education.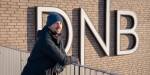 "To get the most out of the two-year programme, I used my first project to explore which skills are most valued in the Norwegian design industry from the perspectives of students, lecturers and design alumni," Rob tells us.
"Based on that knowledge, I chose to focus my studies on sustainability, service design and system-oriented design."
Rob genuinely enjoyed learning new working methods, design techniques and developing his digital skillset throughout the master's programme, and enjoyed seeing how he could apply the skills he already had in new ways. 
His experience in the master's programme made him realise he could take his career in a new direction.
"I find that the skills I developed through the Master's Programme in Product Design have opened up a wide range of new career opportunities," Rob reflects.
I now work as a service designer at DNB and find it incredibly exciting to work with the fascinating technology being deployed in the banking and finance worlds, helping to improve the everyday experiences of customers. – Rob Starling