You would probably think Norway and Germany as western countries are quite similar when it comes to public health nutrition. Theresa Stegemann (27) from Düsseldorf was surprised to learn how different these countries approach this issue.
"It is really interesting to study public health nutrition in Norway. There is a different approach to the topic than I am used to from Germany. It seems as if there is more focus on preventing illness related to nutrition in Norway, not only repairing the damage when it happens."
 The appeal of an international master's degree
Theresa took her bachelor's degree in nutrition science in her home country Germany and wanted to apply to a master's programme abroad.
"I had been visiting Norway on holiday some years ago, and I really liked it. I simply looked up the website for OsloMet and decided to apply", says Theresa.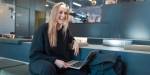 She is now in her first year, but she has already settled in Oslo as a student. The pandemic has of course influenced her studies, but she becomes more and more fond of her new hometown.
"I like the size of the city, it's perfect. One of the reasons I like it, is because of its closeness to nature."
Therese also works at a café and as a Pilates instructor, and having these jobs is vital for her well-being.
"As an international student it is important for me to get to know people, only this way I can be integrated. The pandemic situation with home schooling has been a challenge, but it helps to have a job."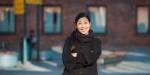 International students and a global perspective
In her class there are a few German students, one from the US, and one Ethiopian student. The rest of the students are from Norway. All the lectures are held in English.
"I really appreciate the way OsloMet university takes care of me and other foreign students. Compared to what I am used to, the class is small, and you do not get lost," Theresa explains.
Like Theresa, Live Edvardsen Tonheim (40) has a strong personal interest in public health nutrition. From 2014 to 2017, she took the bachelor's programme in nutrition at Atlantis Medical College. In 2021, she finished her Master's Degree in Public Health Nutrition at OsloMet.
"I did not have a particular job in mind. I just wanted to learn more about how nutrition can influence public health. One thing I liked about this study programme was the variety and depth of knowledge. You got a larger perspective than just clinical nutrition", says Live.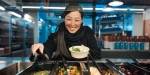 She chose to write her master's thesis about plant-based diets – veganism and other vegetarian diets. Right now, she is working on her application to a PhD for which she was granted a scholarship.
The PhD project is part of the DIGIGROUPS project on digital group work in higher education within health sciences. It was initiated by researchers in the Public Health Nutrition research group at OsloMet.
"To thrive in this master's programme, you have to be motivated. There is a lot to read, and you must be prepared to put in the hours both working alone and in group assignments. But I found it very interesting, especially the global perspective on nutrition."
 A versatile degree
Theresa says she was surprised about the versatility of the degree – she thinks it will lead to a lot of possible career opportunities both in Germany and in Norway, if she wants to continue living here.
"You have to go in with an open mind. You will probably not find all the courses to match your interests, but then there are other courses that you will find more interesting", she says.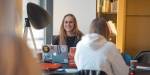 In addition to lectures, they have project work, group discussions, presentations, and individual studies.
"I have never had a home exam before, that was a new experience", says Theresa.
The courses are built up in a block system, meaning you study a few courses each semester with a finishing exam. Some courses are compulsory, some are elective.
One main difference with a Norwegian university compared to some other countries, is that you are expected to take responsibility for your own progress. You will not get any traditional homework; however, you are supposed to be prepared, read articles and turn in assignments.