After completing his PhD at OsloMet in 2020, Tagliabue accepted an associate professor position at the Department of Behavioral Sciences. Tagliabue's current research focuses on the power of nudging to influence human decision making.
Making the move
What a decision he made to move to Norway!
Although he got off to a bumpy start securing housing before the university's offerings to better accommodate foreign employees were in place, he still appreciates every step in his journey. He first moved into an apartment he shared with three other people, but the Italian native didn't plan to live there very long.
"The idea back then was to use the shared apartment as a temporary base, but I just happened to stay there much longer than I was planning to," Tagliabue recalls.
"It was a great decision, I think. Not only because it was within walking distance from campus, but also because it was a good way to meet people, start exploring the city, and integrate here."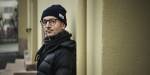 He has a genuine appreciation for the downtown campus's structural layout and architecture, from the old brick buildings at the northern end to the modern, glass buildings that anchor the surrounding blocks.
The central courtyard serves as an informal gathering space for faculty and students walking between buildings. This campus feeling is something he missed while pursuing his bachelor's and master's degrees at the University of Turin.
"One of the points of pride of OsloMet is being branded as a European university," the Italian native tells us.
"This is reflected when you look at the campus in the city centre and have a bit of this romantic feeling of it being the former brewery."
"In addition, being located conveniently in the city allows you to get pretty much everywhere just by taking a short walk after work. You can go out for an ice cream down at Aker Brygge where you can sit outside and watch all the boats coming and going. I really love the sea."