Oslo offers the best of both worlds: city life and close proximity to Norwegian nature.
During the spring, you'll see half the city working on its tan on a waterside pier, in a park or on a sandy beach.
As the days grow longer, the Oslo Fjord start to fill up with people of all ages swimming in the clean, salty water as they watch the sun set over the city.  
Fast-forward to winter and another element in Oslo's arsenal of natural wonders takes centre stage.
While there are still a few hardy souls swimming in the now quite chilly fjord, winter in Oslo for nature enthusiasts is really about one thing: skiing.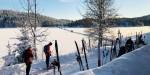 Skiing as a way of life
There's a popular saying that Norwegians are born with skis on their feet. And there's little question that most adults here have a relationship to skiing and incorporate it into their winter routine.
So, what's so special about skiing? Locals will tell you that cross-country skiing offers an ideal way to enjoy the outdoors during winter.
Think of your skis as an extension of your own two feet as you navigate the forested hills of Oslo, breathing in the unpolluted air, and catching occasional glimpses of the city lights and the fjord beyond the trees.