Say what? Check out this guide to saving money in Oslo we've put together for you considering whether to do a master's here or spend a semester in Oslo on exchange. Take it from us—you can live economically in Oslo and have a good time doing it.
Live in subsidised student housing
Besides tuition fees, your biggest expense as a student is your rent. In Norway, student housing is subsidised by the state.
SiO is the name of the student-run cooperative that offers student housing. The cheapest units are about 3500 NOK, or around 300 Euros. That's pretty cheap, and a third of what you'd pay in the open market, or in cities we typically think of as cheaper than Oslo.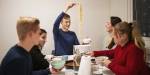 As an international student at OsloMet we highly recommend you to apply for student housing to keep your expenses down.
Living in student housing is also a great way to meet other international students as well as real, live Norwegians.
Eat your fruits and vegetables
We're not going to lie—beef and chicken aren't cheap here. But other foods are. All around Oslo, you'll find independent, family-run shops that sell fruits and veggies at much lower prices than the chain supermarkets.
Not only will you be supporting independent businesses—the variety will be better and the groceries fresher. Maybe it will take you moving to Oslo for you to finally start getting your five a day.