Sheree Nicholson lives in student housing close to Sognsvann, a lake located at the edge of the forest. Going for hikes around the lake helps her clear her head.
"Hiking around Sognsvann makes me feel so relaxed," the 25-year-old Canadian tells us.
Sheree is pursuing a master's in International Welfare and Health Policy at OsloMet. She is especially grateful she lives so close to nature when life as a master's students gets stressful.
"The fresh air helps, and the scenery helps. Thoughts just come and go, and I don't have to worry about anything."
Breathe deep—the air is clean here
Sheree wishes she had a lake like Sognsvann she could get to easily back home in Toronto. 
"When I'm by the lake, I don't have to worry about traffic lights. The only thing I have to keep an eye out for is joggers," she says with a laugh.
"The air is so much cleaner in Oslo. It feels fresher than at home."
When she's not spending time by the lake, Sheree often takes the metro into central Oslo.
Going to events in the city gives her the chance to explore Oslo in new ways.
"I would also like to do more outdoor activities to push myself out of my comfort zone," Sheree tells us. "My goal for the summer is to go on a long hike."
You don't want to look back on your experience and not have any memorable or funny stories. – Sheree Nicholson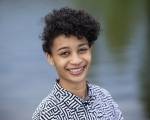 Challenge yourself
The Canada native says she has learned a lot about herself during her time studying in Oslo.
This is Sheree's second time in Oslo—while doing her bachelor's degree in Canada, she spent a semester at OsloMet as an exchange student. Back then, she said "no" to a lot of things, which she regrets today.
"You don't want to look back on your experience and not have any memorable or funny stories," she notes. 
"I thought I was an open person when I first came to Norway, but really I wasn't," the 25-year-old remembers. "I always shied away from attending events, parties and social gatherings. And I ended up regretting it."
Now that Sheree has started her master's at OsloMet, she is focused on challenging herself and getting out of her comfort zone.
Sheree has the following advice for other international students:
"You should try new things. Just do it all. Nothing bad is going to come of it."