"The light in the North is really beautiful. I especially like the sunsets," says Andrew Edson. 
The 22-year-old is originally from Spain and is currently pursuing a bachelor's degree in Media and Communications. 
His favourite place in Oslo is the park at St. Hanshaugen, located just a short walk from OsloMet and the student apartment where he lives. The park has a great view of the Oslo Fjord.
"You can enjoy the sun longer at the highest point of the park," Andrew says.
He often comes here to go for a walk in the evening. The light and the colour of the sky is different in Norway than in Spain, according to Andrew. 
"When I get visitors from Spain, I take them to the park to watch the sunset." 
The light and the colour of the sky is different in Norway. – Andrew Edson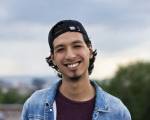 Watch a movie under the setting sun
Another thing Andrew likes doing in Oslo is going to the outdoor cinema. His first outdoor cinema experience was two years ago with his girlfriend. The film was showing by Akerselva River, which runs through the centre of Oslo. They watched the movie Your Name.
 There were lights set up along the river and the atmosphere was really magical.
"It was amazing—definitely one of the greatest experiences I've had here in Oslo," he says.
"You should definitely check it out, especially if you are interested in film like me. I always look for outdoor cinemas in Oslo during the summer, so don't be surprised if you see me there," says Andrew with a smile.