When Herish first discovered Frognerparken, he was thrilled by how beautiful it was.
The 38-year-old is pursuing a master's degree in Multicultural and International Education at OsloMet.
Herish regularly goes for walks in the park to take a break from his studies. He especially likes the old sculptures from the 20th century by the Norwegian artist Gustav Vigeland. 
"The whole park is a perfect place," says Herish. "I like both the park and the Vigeland installation."
"It's beautiful even in winter." 
Oslo—a live music hub  
Herish plays the classical guitar and enjoys going to concerts in Oslo. Since coming to Oslo, he has seen artists from all over the world perform at music venues like Cosmopolite and Telenor Arena.
"Thanks to studying in Oslo," the Iran native tells us, "I have had the chance to go to concerts with some great musicians, like Ennio Morricone and Nick Cave." 
I often go for walks in Frognerparken, just to ease my mind. – Herish Naderi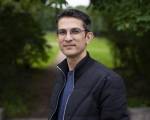 The Vigeland sculpture park
The Vigeland sculpture park is a part of Frognerparken at Majorstua. Norwegian Gustav Vigeland (1869-1943) created both the layout of the park and all the sculptures in it. They are made of bronze, granite and cast iron. The most known pieces are The Angry Boy (Sinnataggen) and The Monolith (Monolitten).