Without further ado, here is your guide to your first winter in Oslo.
Learn to love skiing, sledding and other winter sports
During the winter, Oslo becomes a gigantic playground. We did host the Winter Olympics here, after all.
Get used to seeing people taking the metro to work with a pair of skis slung over their shoulders. Get excited about little kids in snowpants dragging miniature sleds.
Did it snow in the winter where you grew up? Then it's time to embrace your inner child again. Or is this your first encounter with the white stuff? You're in luck, because Norwegians love sharing their enthusiasm for winter and winter activities with newcomers.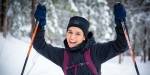 The corkscrew
We know you just finished hearing us rave about winter sports. But the corkscrew, a sled run known in Norwegian as Korketrekkeren, fully deserves its own spot on this list.
To experience Oslo's hands-down coolest winter attraction, hop on line 1 of the metro and take it all the way to the last stop, Frognerseteren. Rent a sled for 150 NOK (15 Euros), hop aboard and begin your journey down the 2 km long hill.
Get ready for one of the wilder rides you've had in years. At the bottom of the hill, you can catch your breath as you wait for the metro to come and bring you to the top again so you can do it all over again.
If you're really feeling like a daredevil, you can reach speeds of 40 km/hour, but we won't judge you if you put on the brakes.