Downtown Oslo is small, compact and walkable. Home to many of Oslo's best known landmarks, like the Opera House and the Royal Palace, the city centre is also dotted with hidden gems popular with Norwegians and internationals alike. 
We asked Olaug Marie Baade Aamlid to take us to some of her favourite spots in central Oslo. All of the stops listed below are within walking or biking distance from OsloMet's Pilestredet campus.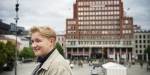 "Coming from a small and quiet village in the western part of the country, I love the buzz and range of activities the centre has to offer," the 22-year-old tells us. "Everything is within walking distance and there's always something to do." 
Want to experience life in Oslo?
Every year, OsloMet welcomes hundreds of international students from all corners of the globe.
Whether you pursue a master's degree, a PhD or spend a semester on exchange, you can look forward to a high-quality education at a modern university located in the centre of Oslo.