St. Hanshaugen—Sahnkt Hahns-how-en, as it's pronounced in Norwegian, offers the best of both worlds.
You can spend hours wandering the narrow residential streets and stopping in cute, locally-owned shops in the main commercial district. Or you can escape to one of several parks, where you'll find tranquility, stunning views of the city, and endless opportunities for people-watching.
St. Hanshaugen begins immediately east of OsloMet's downtown campus, Campus Pilestredet.
Whether you're considering moving to this part of town or you just want to get a feel for the area around campus, OsloMet student Simen has put together a little tour of some of his favourite neighbourhood spots.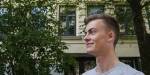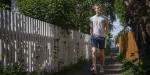 Want to experience life in Oslo?
Every year, OsloMet welcomes hundreds of international students from all corners of the globe.
Whether you pursue a master's degree, a PhD or spend a semester on exchange, you can look forward to a quality education at a modern university located in the centre of Oslo.