Many students who relocate from abroad to pursue a degree in Norway experience an adjustment period as they adapt to the unfamiliar culture and customs of a new country.
There is the new language, geography, and weather patterns to acclimate to. There are new holidays and traditions. Finally, there are the people.
Austin Lavender enrolled in OsloMet's International Social Welfare and Health Policy master's programme because he ended up feeling more at home in Norway than he did in the United States, where he grew up.
Lavender was blown away by the acceptance of his sexual orientation he experienced on exchange in Norway, some 7,000 kilometers away from his native Tennessee. Now, he feels more comfortable in Norway than he ever did in the U.S.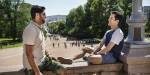 Fitting in
One of the first things Lavender did after starting his master's program was audition for Oslo fagottkor, the Oslo Gay Choir, a group that turned out to be a lifeline in his new city.
"It's been my biggest social saviour because I know international students can struggle to find a network here. So I was lucky in that sense," Austin reflects.
"Because of the choir, I'll go somewhere, and I'll tell people that I sing in the choir. They'll say, 'oh, I know this person in the choir, I know that person in the choir,' and it immediately creates connections for me."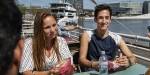 In Norway, it's common to meet new people through shared activities, clubs, and groups. So Lavender's friends in Oslo encouraged him to try out for the choir. This decision helped Austin make almost instant connections.
The American native had a small group of friends from when he previously lived in Norway as an exchange student, which also helped him settle in socially when he began his master's at OsloMet.
His integration into Norwegian society was further helped when he met his now-partner Vegard after arriving in Oslo.