To help you make the right choice and get the most out of your OsloMet experience, we talked to a few students about living in some of the more popular student housing options.
Oslo can be quite expensive, but luckily The Student Welfare Organisation (SiO) offers affordable housing to fit everyone's needs and preferences.
You can live in the heart of the city or close to the forest and one of Oslo's most popular lakes.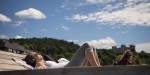 Due to the COVID-19 situation, international students are not currently guaranteed a room, however we recommend that you apply for one (student.oslomet.no).
There are more student housing choices in the city than the ones presented here. You can find the full housing list on SiO's website (sio.no).
We start off at Åråsen for those of you considering studying at our Kjeller campus and looking to live nearby. Then we move on to the locations in the city of Oslo.