Researchers from the five-year EU-funded project Strength2Food wanted to find out, among other things, how European consumers perceive the quality of the food they eat. What do people know about quality labelling of food, what do they think and what do they do?
To find out, the researchers decided to observe families to see how they shop, cook, eat, tidy away and talk when it comes to food.
'We've developed several interesting and experimental research methods here at OsloMet,' says Virginie Amilien, cultural researcher at Consumption Research Norway (SIFO) and one of the project managers of Strength2Food.
Seven countries, six households, three visits in the course of one year
Using a method known as an 'ethnographic approach', the researchers visited seven countries, six households in each. The researchers joined families in France, Germany, Hungary, Italy, Norway, Serbia and the UK when they did their shopping and around the dinner table. Each household was visited three times over one year with each visit lasting for several hours.
'Each time we visited, we did the shopping, put the food in the fridge, prepared meals, ate and cleared up afterwards,' explains Amilien.
The three visits were distributed across the year since food habits often change with the seasons.
Online exhibition with photos from the kitchens
Both the researchers and families took photos or videos during each visit, but the families were assigned a special photo task: They were given a topic to photograph at each visit.
At the first visit, they took photos of their everyday food and at the second, they were to pay particular attention to the products' quality labelling. For the third visit, they were told to follow one specific product from it was purchased until it was eaten. Finally, they selected 12 of the photos.
'We chose this method because photos say something else than words,' says Amilien.
'The process of both taking the photos themselves and having to choose just a few of them created a sense of freedom and self-reflection. It provided a valuable glimpse into everyday food habits and allowed room for another form of communication.'
Many of the photos were sorted and brought together to create an online exhibition designed by Gun Roos from OsloMet and Barbara Tocco from Newcastle University:
Food practices and quality labels in European households (Gallery) (strength2food.eu)
How the visits took place
All three visits were structured in the same way in each country with shopping, cooking and family dinners as the highlights.
The first visit kicked off with a semi-structured interview that lasted about an hour. Amilien refers to this conversation as an icebreaker. The goal was to find out what people know about quality labels and to what extent they are interested in them.
The conversation was based on a bag of food that was a gift from the researchers. All of the products had quality labels in the form of a geographic name or an organic or Fairtrade logo. In Norway, the products had a Debio or Matmerk label, such as 'Nyt Norge', indicating that it is a Norwegian product. After the conversation, everyone went to the shop together.
Laughter about the kitchen drawers
The second visit started with a trip to the shop. When they returned, the researchers delved into the household's kitchen when food cupboards, drawers, the fridge and freezer were carefully studied, filmed and, not least, commented on by the participants.
'The kitchen study was the source of much laughter and spontaneous food-related conversation,' explains Amilien.
Cooking and eating a meal were also on the agenda for this visit.
The third visit followed the same structure as the second but the researchers also introduced a 'dialogic conversation'. This was an experiment intended to culminate in a form of self-reflection with the researchers.
'We would often watch the video or read the notes from the first interview. Nearly a year had passed and there was lots to talk about,' says Amilien.
'The conversations were about what they normally bought, whether they bought local food and where they shopped, as in the first interview.
The main goal was to think together about food and quality labels, but the researchers were also interested in seeing whether there had been any development. Had the informants' perspectives on food changed during the course of the year they participated in the project?
What did they find out?
There was actually little change in the participants' opinions about sustainable food consumption. To put it simply, those who were concerned about sustainability remained so, and vice versa.
'But something else emerged from the conversations,' explains Amilien. 'The conversation itself, which was a form of reflective dialogue, and participating in the project contributed to new ways of thinking.'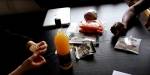 Several of the participants had thought about quality food and quality labelling. They pointed out problems and came up with helpful advice to the authorities, such as introducing practical exercises and reflections on food culture and food quality as early as from school age.
The researchers also found out something else: Hardly anyone notices quality labels on food, as described in a previous SIFO publication (in Norwegian).
'Qualitative studies are often used to prepare for quantitative studies. Here we have done the opposite. We started with a small-scale quantitative study followed by a large-scale quantitative study representative at the national level. Then we went on to an in-depth qualitative study comprising home visits and direct contact. We gained a greater understanding of why people answered as they did in the surveys,' says Amilien.
Hybrid forums
Amilien has several methods to share and she is enthusiastic about trying things that have not been done before. In another part of the project concerning disagreements about food products in local communities, they have developed a special method of democratic dialogue, which they call a hybrid forum.
'This is a way of democratising a conversation in a local community. The goal is not to get concrete results but to get people to listen to each other,' she says.
Strength2Food arranged hybrid forums in seven countries, three in each country over the course of three years to assure continuity. In Norway, it concerned, among other things, local fish trade in Sandefjord. What do fishery traditions mean to the town's inhabitants? Are people aware that fish is part of the local culture and how should it be enhanced and further developed?
'It's really interesting and is already being used in other projects,' says Amilien.
Learn about quality food and direct trade via an online course
Finally, the project has also developed an online open access course, or a MOOC, available on the project's website. In just 75 minutes, we can all learn more about quality labelling and food consumption.
Sustainable food choices: Key lessons from Quality Schemes, Public Procurement and Short Supply Chains (strength2food.eu)
About the project
The EU-funded project Strength2Food (2016-2021) has looked at local food production and consumption in light of the EU policy on food quality and the public sector's procurement policy. The goal is to strengthen local development of agriculture and fisheries and the market for local and organic food. SIFO has been responsible for several activities in the project:
Investigated direct and local sales of food from producers to consumers in six European countries.
Conducted ethnographic studies of consumers' perceptions of food quality, and their knowledge about and use of quality labels on food.
SIFO has led the work on developing a method for democratic dialogue in local communities, known as hybrid forums, in seven European countries.