We can create a more user-friendly and intuitive user interface for elderly people by coupling digital information with everyday physical objects. This is what we call a Tangible User Interface (TUI).
Although Tangible User Interfaces was introduced as early as 1998, using it to make an impact on elderly people's social interactions and quality of life has not been common.
OsloMet researcher Way Kiat Bong and his colleagues have developed a Tangible User Interface application to improve the elderly's technology acceptance, social interactions and quality of life: "The Tangible Cup".
Problems using ICT
For multiple reasons, many elderly people experience problems when using information and communications technology (ICT). 
They might not remember how to use the technology due to an impaired memory. Using a touch screen can also be quite challenging when the muscles are getting weaker, and having poorer vision might result in difficulties seeing the buttons and icons on the screen— buttons and icons that are not necessarily intuitive and easy to understand in the first place.
Furthermore, older people are typically more sceptical to new technology and often need more time to learn how to use it. They might also be afraid of making mistakes.
On the other hand, information and communications technology has the potential to contribute to the users' social interaction and well-being, thus having a major impact on their quality of life. 
To be able to benefit from this, the elderly need ICT solutions that are more intuitive and easy to use. Their acceptance of new technology increases when using familiar objects.
A cup that is connected to digital communication
The Tangible User Interface application, the Tangible Cup, consists of four parts: a cup, a cup attachment, five coasters and a tablet. 
The attachment is similar to a round fridge magnet. It contains an RFID reader, which reads different tags on the coasters in order to distinguish them from each other.
First, the users place the attachment under the cup and then they can make various choices by putting the cup on different coasters.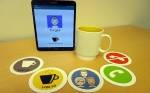 A fun and easy way to call online friends
The five coasters can be used to log in, log out, start a call, end a call and search contacts. An app installed on the tablet enables the user to search for and call online friends.
The tablet displays an interface based on which coaster the cup is on. 
For instance, the tablet displays a list of online users when the Tangible Cup is put on the coaster for searching contacts.
While ordinary phone calls are based on phone numbers, the Tangible Cup only requires an Internet connection and user registration. In this way, you can make new friends without knowing any phone numbers.
You can use a tangible cup at home to make new friends and be socially active. This technology can be very useful, especially during winter in Norway when elderly are less mobile and stay more at home. – Way Kiat Bong
For people with low technological skills
"Solutions like these can be suitable for elderly people with low technical knowledge or skills, since they are not used to being on smartphones, iPads and similar devices unlike the younger generations," continues Bong.
"Is this interface only for elderly people with good cognitive abilities?"
"In our research, all the participants had good cognitive abilities. However, since the system is so easy to use, they saw the potential for using it with people they know that have lower skills than them."
I remember how to use the Tangible Cup, and it was easy. There may also be a potential for users with lower cognitive abilities. – Participant in the research project.
This could benefit people with Alzheimer at an early stage, as long as they can remember how to place the cup and recognise the signs on the coasters.
In this way, they can get help to, more easily, do things that they need to do often, as everyday objects in the home are connected to the ICT system. 
Adapting to different users
There are people in their 80s that are very healthy and socially active and there are those who are not. 
Their ICT competence also varies greatly. This is a diverse user group, and to get the most out of the product, it should be customised. No solutions will work for everyone.
"The ICT competence among elderly people may have increased ten years from now, and then I guess there probably will be more people in their 80s with better ICT competence than today?"
"Yes. In the future, this design will not only help elderly people with low ICT skills. It could also be of use to people with low cognitive or low motor skills. Elderly people might use the Tangible Cup while their children and grandchildren will be using the app version," says Bong.
The coasters can be personalised based on what the users need. If you have a cognitive impairment, you could have a picture of your son or daughter on the coaster for contacting them.
My wish is that the Tangible Cup can be used with other ICT devices, such as smart TVs and other Internet based solutions in a smart home. – Way Kiat Bong
Optimistic about Tangible User Interfaces
Bong is optimistic about further research on everyday objects linked to information technology.
"I am very optimistic, because ICT nowadays comes in different variations that can meet the users' needs." 
"Tangible user interfaces build bridges between the digital world and everyday physical objects, making the interactions more intuitive. As a result, it has great potential to address the needs of specific user groups."
He also sees that it has become more relevant during the corona pandemic: Many elderly people have to be alone at home, and cannot get the visits they used to get. They are also in the risk group and that is often why they have to be most of the time at home." 
"To keep their social life now active, they have to rely more on ICT than before. However, studies have shown that many elderly people have low ICT acceptance and use."
How to design ICT for elderly people
The researchers involved elderly participants throughout the whole research process, both in designing and in evaluating the cup.
During the project, they wrote down a list, which can serve as a guide for what to consider when designing a Tangible User Interface for and with elderly people. 
The participants told the researchers that they wanted the coffee cup to be like the one they were used to—medium in size and with a good handle.
Items commonly found in the kitchen, in this case the fridge magnets, inspired the design of the cup attachment. Using objects that the elderly are familiar with increases the acceptance of the new technology.
Other lessons learned include providing minimal functionality and necessary instructions, avoiding crowded interfaces and integrating the ICT use into the daily life of the elderly.
Under an interdisciplinary strategic lighthouse initiative, Faculty of Technology, Art and Design has provided partial funding for the study; and Weiqin Chen and Astrid Bergland have been supervisors for Way Kiat Bong, who had this as part of his doctoral education.
References