OsloMet AI Lab administers research and student projects in artificial intelligence, both applied and basic research, including theory and the use of machine learning in different areas.
OsloMet Artificial Intelligence Lab (AI Lab) is a joint research centre for OsloMet – Oslo Metropolitan University and SimulaMet located in the heart of Oslo. The Department of Computer Science is the host of the centre located in Pilestredet 52 in Oslo.
The Applied Artificial Intelligence research group (AAI) took the initiative to the lab, which has members from many research groups at OsloMet and SimulaMet, and is at the forefront of artificial intelligence in Norway. Al Lab's partners are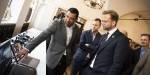 Lab manager 

Head of advisory board

Deputy managers

Michael Riegler
Senior Research Scientist

Maria Normann
Communication Officer

The aims of OsloMet Artificial Intelligence Lab are to

conduct ground-breaking research in the field of artificial intelligence
educate students and the wider community on AI related subjects
attract and develop human talent
collaborate closely with the industry and the government
foster collaborations on basic and applied research in artificial intelligence
host presentations, meetings, conferences, courses and hackatons in the field of artificial intelligence
be a center for all artificial intelligence related collaborations inside OsloMet
represent OsloMet in Artificial Intelligence related events and communities
be a partner for national and international groups and companies working on artificial intelligence.

'Autonomous and Adaptive Systems' focuses on robotic systems and the internet of things. Robotic systems include physical robots such as vehicles, drones and other robotic platforms, as well as robotic software such as expert systems and AI-based control systems. Systems based on the internet of things can be applied to a number of different areas. Areas of research:

'Computational intelligence, adaptive systems and real-time analytics'. Researchers: Jianhua Zhang, Anis Yazidi, Hugo Hammer, Michael Riegler
'Autonomous IT and Networking Systems'. Researchers: Evrim Acar Ataman, Ahmed Elmokashfi, Özgü Alay, Hårek Haugerud, Kyrre Begnum, Anis Yazidi, Paal Engelstad, Thanh van Do, Boning Feng.
'Robotics'. Researcher: Alex Alcocer

'Decision Support and Personalized Systems' comprises systems where people use artificial intelligence for decision support, for example in the health services, or to make automatic solutions based on the users' learning. Areas of research:

'Computational Neuroscience and Neuroengineering'. Researchers: Jianhua Zhang, Peyman Mirtaheri, Tulpesh Patel, Gustavo Mello
'Health Technology'. Researchers: Peyman Mirtaheri, Trine Haugen, Michael Riegler, Pål Halvorsen, Hugo Hammer, Anis Yazidi, Jianhua Zhang. 'Construction and Building Engineering'. Researchers: Vagelis Plevris, Nam Bui

'Machine Learning Models and Optimization' comprises activities at a theoretical level to improve machine learning models and other metamodels for artificial intelligence, and to improve solutions for complex IT systems issues or other complex systems (multi-objective optimization). Areas of research:

'Artificial Life and Complex Systems'. Researchers: Stefano Nichele, Gustavo Mello, Jianhua Zhang.
'Machine Learning Methodology'.  Researchers: Evrim Acar Ataman, Jianhua Zhang, Stefano Nichele, Gustavo Mello, Pedro Lind, Michael Riegler, Hugo Hammer, Anis Yazidi.
'Computer architecture and hardware'. Researchers: Pål Halvorsen, Michael Riegler.
'Quantum Computing'.  Researchers: Sergey Demisov, Sølve Selstø, Leiv Øyehaug, Simen Bræck.
'Ethics and responsible research and innovation'. Researchers: Anders Braarud Hanssen, Tale Skjølsvik, Joachim Breunig, Mads Gjefsen, Knut Vie, Anthony Giannoumis.

Associated research groups and independent members

OsloMet Artificial Intelligence Lab consists of members from the following research groups and labs:

Motion Analysis Laboratory

Other researchers affiliated to the lab, but not mentioned in the research groups, are ...

Andre Brodtkorp, Associate professor

Debesh Jha

, PhD student
Eilif Hjelseth, Professor

Evrim Acar Ataman

, Research Professor

Marie Roald

, PhD student

Morten Irgens

, special adviser

Olav Lysne

, Professor/Director

Pål Halvorsen

, Professor

Peyman Mirtaheri

, Professor

Umair Mehmood Imam

, Assistant Professor

Valeriya Naumova, 

Senior Research Scientist

Please contact us if you would like to join us.
AI education
Are you interested in studying artificial intelligence at OsloMet – Oslo Metropolitan University?

New two-year specialisations in applied artificial intelligence, Data Science, and Robotics and Control at master's degree level is available from 2020, see the Master's Degree Programme, Applied Computer and Information Technology (ACIT).

Do you want to write your bachelor's thesis or master's thesis on artificial intelligence? Get in touch with us.

We have AI courses available at the bachelor level, master level, PhD level, as well as summer courses:

Bachelor

Master

PhD

PENG9560 – Topics in Artificial Intelligence and Machine 

Summer school

AI Makerspace

We are in the process of creating AI Makerspace, in collaboration with the OsloMet Makerspace.

We will host different courses related to artificial intelligence, and the courses will be open to all students at OsloMet.
Contact
Address and contact information

Office address

OsloMet – Oslo Metropolitan University, Oslo, Norway
Pilestredet 52, third floor, entrance A.

Map: Google Maps, 52 Pilestredet

Contacts for the media and scientific cooperation – see core members above.